LATESTBLURB
Whats Happening
2.3.2021 So...2020 happened
"Life is what happens when you're busy making other plans."
- John Lennon
I had made a post below on the cusp of an on-coming storm so large it's almost hilarious. I had made plans to get back into streaming in a limited capacity after taking 2 years off. I revamped my streaming equipment, upgraded components on my PC, bought a new mic, and was even saving up for the new XBOX Series X. I was pumped up to hit gaming hard.
Then other things happened. 8 days after my post, I lost my new job with this software company I had been working with for the past 6 months. Then a week later, my wife told me we were pregnant! (later found out we were having TWINS!) That really changed things. For 5 months I had to hit the job market hard and luckily, I was able to snag a great position in the tech/marketing industry right before the month of March. . . And COVID:19; the dumpster that was 2020 had just gone up in flames.
As many can understand, priorities change when a person's environment changes. My family doubled and my time was no longer my own and I thought gaming would take a far backseat indefinitely. Luckily, that has not been the case. I have found creative ways of getting my gaming time in and while my babies are my world and my wife gets my attention whenever, I still am able to jump online and play.
I am re-evaluating my choices and options but even if only in limited quantities, I will return!
10.21.2019 2 years later
"Success means sacrificing what you are for what you will become."

- Eric Thomas
It's been almost two years to the day since I posted an update here. I haven't quit. I just had to leave... temporarily. When you change careers and have a family to support, priorities have to be reviewed, recalculated. Not making an excuse. I'm simply smart enough to know what's most important in my life.
The light, however, will always be at the end of every tunnel if you continue to dig in the right direction and I have found my light at long last. Things have calmed down and I am finally planning again or rather Scheming, if you will.
My plan is as follows:
Reevaluate a new streaming schedule that will allow me to post and play and entertain again more efficiently,
Create a list of new (and old) games that will allow for fresh new content,
Update my tech and sound to improve visual and audio formatting,
And have all of these done, perfected, and going by 2020.
My goal is to be smarter than have have been before knowing all that I know now. This will all begin again with writing; adding to my backstory blogs because there is a lot to share and explain. So keep an eye out!
It's shaping up to be a great new year of Entertainment!
10.23.2017 Happy Minecraft Monday!!!
Its a new week and there are new videos! First will be the new MINE CRAFT Videos! There will be MC: Story Mode Part 1. Then the video two weeks ago will be live today!
Then we've got Part 2 of Story Mode. WOOT!!! I will be live 9 PM Eastern Standard Time. So tune in tonight. It's all going to be so exciting!!!!!
New videos will be up later this week as well. We have part 10 of Horizon Zero Dawn and this Thursday I will be streaming Until Dawn for our Halloween Extravaganza that will be taking priority for the rest of the month of October.
Also, last weeks stream with @BobbyMaverick went extremely well and we both had a blast learning how to bumble along with our set up. Ill get his video up and running by Thursday for all to see!
Also, Saturday was a little bumpy but I streamed Dying Light for a zombie-themed weekend Let's Play. That will be online soon as well when I can get to it!
It's shaping up to be a great week of Entertainment!
10.17.2017 Crazy ups and Downs... Plus all new Ups!!!
So I have some very exciting news!!! I will be in a public Holiday Zombie Podcast this Saturday! @DwarvenTrey is hosting a few Creators for an all out discussion of the modern day terror. This Halloween Season, come check out yours truly will be dishing out what I know. This Saturday at 2 PM PST (5 PM EST) the 21st of October. Stay tuned for more info to come!
New videos will be up later this week starting with the new Minecraft: Story Mode for the next few Minecraft Monday streams!!!
This Thursday I'll be streaming with my close friend and confidant Robert Jones of Alabama Fame! And the game? WARFRAME!!!!!
The new Blog is up as well. Something tells me this is going to be a great week!
10.12.2017 NEW VIDEOS AND LET DOWNS
So, a few things have happened since I last updated the website. I've spent a few dollars exploring what happens when I promote videos on YouTube. (Spoiler - You get over 1000 views!!!!!) Very exciting. Also, I experienced my first rip-off on Twitter. P.S. Don't try and do gaming business with people you don't know. Vet them first!
Also, the New Minecraft Monday is up and I finally get my Farm! But the Worms Video didn't work. Audio was off too much. Going to do a re-shoot on that with @CheesemanCT when I get the chance. Whats the craziest thing that's happened? New computer build is all but complete. Soon, I will be streaming in beautiful No-Lag Quality. Its soooooo exciting.
9.27.2017 NEW BLOG IS UP!
If you guys like exciting things, I have a doozy. I am getting smarter with my marketing and I thought all of that sort of thing would be expensive. Read on to see how wrong I was! BLOGS
9.25.2017 DESTINY 2
I gave Destiny 2 a try and I was not disappointed like I was the first time around. I did have a few things to say about the builds though. Actually quite a lot! So come check it out and see what Destiny 2 has to offer...
9.19.2017 FULL DISCLOSURE
I have been very proud of all that I have accomplished in this short time and I don't have any intention on stopping. In fact, quite the opposite has happened. Things are speeding up. I have recorded multiple new videos and I have 5 that I need to pick up. So I am going to do a little outsourcing to pick back up again. Here's what to expect. New Videos from Firewatch, Last of Us, Minecraft, Unravel, Horizon Zero Dawn, DESTINY 2!!!!!! and many more. Plus new blog today, and a few great announcements once I can get plans solidified. So stay tuned folks!
Update: As of 9:33 PM I have added all my videos. I have even highlighted all of them in one place on the Video Splash play.
9.19.2017 My first Celebrity!
It has been a while but I am still kicking! And this time I kick things off with my brother! David (DSour184440) Joins me for a riveting game of failure in the much loved game Last of Us.
8.29.2017 - As Promised. Unravel leaves me feeling happy. . .
I've finally gotten some time and, as promised, gotten my video ready to show the world. Here is my first look into the world of Yarney as he tries to help some old lady remember some stuff. Like her children. I don't remember, it was all so hard to see past all my tears.
8.28.2017 - MINECRAFT Monday: Nether Regions
Well this video takes the cake in crazy. I attempt to make a video on getting to the Nether for a firewood source and find myself in over my head. Immediately.
8.23.2017 - MINECRAFT LETS BUILD!
My Minecraft Monday from last week is finally up. It took a while but I managed to make it finally work. In this video I begin to flesh out my Castle Build and manage to really screw up in the process. From the very beginning!
8.11.2017 - HORIZON ZERO DAWN PART 7!
Part 7 is out! Come join as I fight the the Machine Horde and fight bandits. Oh, and asumungea joins me to check out the game and watch as we FINALLY reach the City of Meridian...
8.9.2017 - Castles, Creepers, & TNT
The Castle takes shape slowly but surely but something is lurking right around the corner. Come join me in this rendition of Minecraft Monday!
Also, there is a lot coming up! UNRAVEL video and 7 DAYS to DIE! Stay tuned for more this week!
8.5.2017 - ANDROID LOOSE IN ISLE 2!
It's a hell of a thing when the Alien isn't your only enemy. Come watch as I find out just how bad it actually is on this station from Hell!
7.31.2017 - MINECRAFT MONDAY!!!
Part 2 I'm house jumping again and this time my new place is a mountain! Plus I fight a witch with a punk attitude!
7.25.2017 - Blog- Good News / Birthday Goal / New Build
The new blog is out on my site and on Blogger. Enjoy!
7.24.2017 - New MINECRAFT MONDAY!!!
Last week was a rush of distractions but today is Mine-craft Monday and I wont be swayed. Here is last weeks rendition with guest player Lui Calibre5492. Today I will be streaming Minecraft Monday on Twitch. Come join later tonight!
7.11.2017 - New Blog - Am I having fun?
The answer may surprise you!
My Bloggings - Also, I have posted part 2 of Kane & Lynch 2: Dog Days. I feel like it should be spelled with a Z at the end. Dog Dayz.
7.10.2017 - Kane & Lynch 2: Dog Days - I get violent!
Its a bloody good time. While others are COD Deep, I am digging around into the belly of Shanghai Crime and the underworld. Come join me as I bring forth blood, carnage, and a bit of blurry nudity. (Rated R for those that care...and yes this time I have to say it.)
7.7.2017 - MINECRAFT IS UP!
The family-friendly builder has become a little stir-crazy and decides to make a change in his surroundings. . .
7.5.2017 -HORIZON ZERO DAWN PART 6 HAS LANDED!
Horizon Zero Dawn is becoming a favorite of everybody. Its fun to edit and its fun to stream. In this rendition of the violent saga that is the future, I stick it to those who try and stop me. Bandits and Cats alike.
Come and fight the good fight for the future of the Tribe with me.
7.5.2017 - Happy 4th of july! Here is AlIEN ISOLATION - PART 3
This is a bit past due but it's going to be a good one. Im also set to release a few more videos this week and I will be streaming tomorrow on Tuesday plus we have another blog coming out today if I can manage. In the meantime enjoy this bucket of screams as I come face to face with the reason I peed the bed when I was a kid....
6.30.2017 - PART 5.555555 OF HORIZON ZERO DAWN IS A DOOZY!
YouTube Tools are limited
But they are still perfect for immediate video power!
I have put all my personality into this so enjoy and drink up every drop of this wonderful (Edited) Lets Play. (15.22)
6.29.2017 Part 2 is a GO! and Hilariously Terrifying
The video is up and edited with my very own intro to MzArlowe Gaming! I'd like to give a shout-out to arthi26 for doing an amazing job and for the first time since starting I feel like a real You-Tuber and its all because of arthi26 Go check out his work!
Part 2, the lights will be out and my buddy @CheeseManCT will be joining in for the fun since he couldn't make it the first time around.
Let me know you enjoyed the video! @whatsupmzarlowe
6.27.2017 NEW SITE NEW VIDEO
Minecraft Monday is up! I have figured out the Twitter YouTube thing and switched the accounts! Things are looking up. I also posted a new Blog. New MinecraftVideo is below. I will be streaming this Thursday and I have not yet figured out what I will do. Any thoughts on what you'd like to see you can tweet me at @whatsupmzarlowe
6.26.2017 A New Week...
I am very tired after this weekend. I did so many videos Saturday and streamed to Twitch on Sunday. Did more HZD instead of Alien. I was kinda bummed but the atmosphere felt wrong to continue the terror at that time. I will do more of that because that what drives the best stream.
I want to try and do better. I need to drive traffic, not because it's what drives me, but because this site and my videos are all about sharing in the experience. If no one is watching, then I am not sharing and I want people to join in. So if you have been watching, then thank you. Keep it up and keep tuning in. I will hold myself to commit to being better every step of the way.
Anyway, Minecraft Monday is up! take a look. I continue my tower build and fight off the hordes. Ill put up my HZD Twitch stream and do more this coming Twitch Thursday.
6.25.2017 BUSY BUSY WEEKEND...
Saturday I had plenty of time. I got my software up and running. I got my Elgato Capture Card hooked in. I got my microphone all set up.... and then proceeded to trouble shoot for 2 hours. But it worked! My livestream to Youtube went well and I shot three other videos and ran a successful Mixer/Twitch dual cast with Minecraft. I may put that one on my site and I may not because it was so random and soooo silly. Oh well. The HZD part 5 is up on the site and I may just keep playing. Hint Hint. . .
6.23.2017 THE VOTES ARE IN...
Well…the vote is in. I shared my poll across both handles and Facebook and I was only able to get a single vote but, you know what they say, "All it takes is 1."
And the winner? Click to Find Out!
Stay tuned for the Live Stream via Twitch this Saturday. I will be joined by my good friend @CheeseManCT for all the frights this game can throw at us. Ill tweet when we are about to go live but you can expect to see us at 9 PM EST. My Twitch Channel is MzArlowe
6.21.2017 I've finally got a brand Logo!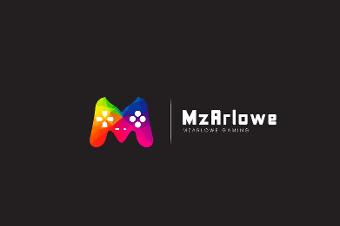 Its never official until you have a brand and a good brand is eye-popping. Thanks to pamelaaustin for the coolest looking design and lending her expertise. Kudos!
Everything is going somewhat according to plan...
Thoughts? Tweet me @whatsupmzarlowe
6.20.2017 IT WORKED!!!!...
I finally figured out the Internet. You just try three times and fail. The fourth time works. Worked last night to do my first scheduled segment of Minecraft Monday and even dedicated it to a young fan but alas. . . It did not save.
However this morning I rerecorded a quick 30 minute Minecraft Video and finally got it right. The video is now online and uploaded on my site and YouTube Channel. You can view the video below:
Thoughts? Tweet me @whatsupmzarlowe
6.19.2017 SCHEDULE!!!!...
I have mixed thoughts on a schedule I am creating. I will post a min of two vids a week and update as often as possible but I have to decide what hours of what days I am going to seclude myself in my studio for a few hours at a time. I really want this to work but maybe a random schedule is still best while I work the kinks out.
Sunday is definitely the best "Game Day" for streaming to be sure and Thursday is perfect for Twitch or "Daily Mixer" (Lol). But I am torn on doing MINECRAFT Mondays since its two back-to-back Game days. I miss the random Retail life. More flexible of a schedule. I will commit to this Thursday but I already have followers on MIXER and I can't help but want to grow that base as best as possible.
Thoughts? Tweet me @whatsupmzarlowe
6.18.2017 Horizon Zero Dawn Finale and whats up next...
I have Posted HDZ 3 and now 4!!! My videos are growing. I tried the dedication video but wasnt able to record it due to a lack of equipment. But no matter. I have purchased a Capture card and will soon learn how to post Xbox Content through YouTube.
In other news, I have decided on doing more content soon. UNTIL DAWN will be my next venture. Thrills and scary chills are about to reign on this Channel!
6.16.2017 Video Games and What's Happening
I have laid the ground work. Everything is a go. I have to make a schedule and add a calendar on here but other than that, I only have to set up my recording software and all things are go. I already have a Twitch, Mixer, and YouTube Channel (Still Under Construction) and will post videos regularly. My main goal is to find a way to record from my studio, post on here, and have it filter to my Channels. One step at a time. Its all a lesson to learn from here and I will improve over time.
FIRST UP - My next videos will be PART 3 of Horizon Zero Dawn and a dedication MINECRAFT video to my wife's nanny family who just had another baby! (6Kids Now) They love Minecraft. I will be in Mixer for that and I will save my VoD for 60 days. I have to make a Video section for that since it wont last forever. I wish I could host all my videos and I know there is a way but I'm still learning the ropes for what this site can do. Stay tuned!
© 2017 MzArlowe ALL RIGHTS RESERVED